Let's play outside!
For helpful suggestions, book by phone! 1 800 906-4485
You can also book a room on line. Book on line
ATTRACTIONS AND ACTIVITIES NEAR THE HOTEL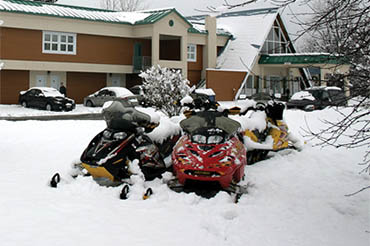 Snowmobiling
Located at the crossroad of the Trans-Québec 5 snowmobile trail that travels around the Gaspé Peninsula and the 595 trail connecting New Richmond and Saint-Paulin (in the Matane wildlife reserve), Hôtel Le Francis is the ideal place for snowmobilers, a loyal and growing clientele. Discover our advantageous winter packages! For more information about the trails,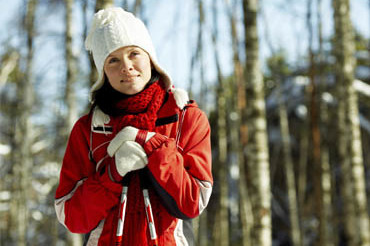 Slide sports
Station touristique Pin Rouge, a ski centre located about 10 minutes from Hôtel Le Francis, offers a full slate of activities for the whole family in winter: alpine skiing and snowboarding, tubing (with a mechanical lift), snowshoeing, cross-country skiing and skating. And the Club de ski de fond de New Richmond maintains a fantastic network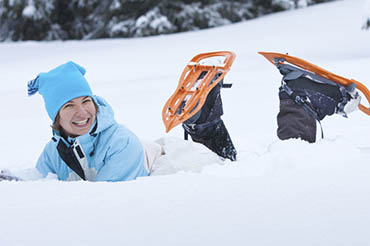 SNOWSHOEING TRAILS
In winter, visitors who enjoy snowshoeing can use the trails near the hotel by taking the footbridge over the Petite Cascapédia. Three kilometres in length, they go all the way to Point Taylor park.
ACTIVITIES AT THE HOTEL
HOTEL SERVICES AND CONVENIENCES
In addition to the Bayou Restaurant and Pub, Hôtel Le Francis offers its clients many other services and conveniences.
Free access to high-speed wireless internet via an optical fibre cable (ideal for webcasting) throughout the building
Free access to a computer at the front desk
Access to photocopier, printer and fax machine at the front desk ($)
Conference rooms with seating for from 10 to 120 people
E-car charging station
Helpful laundry service ($)
Free parking
Whatever the season, Hôtel Le Francis is your gateway to a host of activities and attractions on the premises or nearby.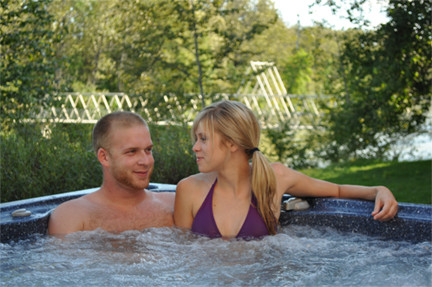 Outdoor spa – SUSPENDED SUMMER 2022
Admire the stunning view of the Petite Cascapédia salmon river – famed for its emerald water – while enjoying some relaxing down time at the outdoor spa.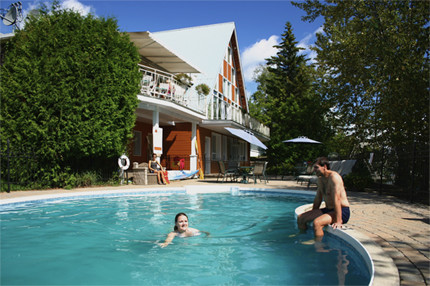 Heated outdoor pool and terrace
A source of happiness and an oasis of delight for children, and for the adults who also enjoy relaxing there. Heated to make the experience even more enjoyable, our pool is supervised by a lifeguard. Open from July to early September,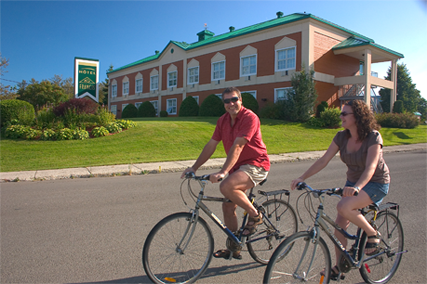 Bicycle loans
We also have two bicycles available for our adult clients, free of charge. Use them to discover the trails around our establishment or to explore our charming small town. You absolutely have to stop in at Taylor Point park on the Chaleur Bay shore. You can borrow a bike any day from late June to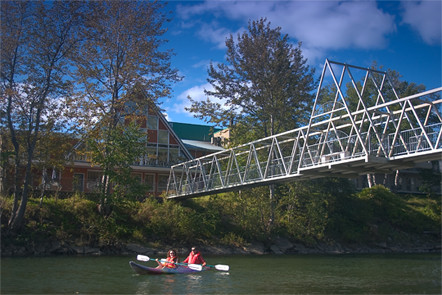 Kayak loans
We also have two river kayaks so you can explore the splendid emerald waters of the Petite Cascapédia salmon river. From late June to late September, you can borrow a kayak daily from 8 am to 8 pm.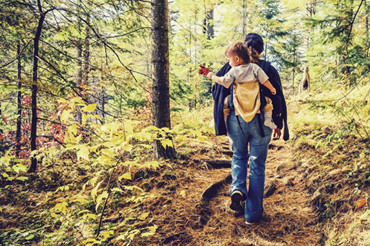 Hiking trails
On the hiking trails near the hotel, you can enjoy a peaceful walk in a lush natural setting. Take the footbridge over the Petite Cascapédia and watch the birds as you make your way to Point Taylor park (a 3-km walk).
Services and activities