HÔTEL LE FRANCIS
Famed for its warm welcome, attentive service and the quality of its equipment and facilities, Le Francis is a 4-star hotel, the Bayou Restaurant and Pub and conference rooms… all under the same roof. Located in New Richmond, on the bank of the magnificent Petite Cascapédia salmon river, the 38-room hotel has a heated outdoor pool and spa, hiking trails and a 40-metre bridge over the river as well as kayaks and bicycles for its clients. With one of the most impressive wine cellars on the Gaspé Peninsula, its pub/terrace and restaurant, each with its own distinct atmosphere and which together can seat up to 120 people, offer the same delicious evolving menu featuring local fare. Finally, the establishment also has two picture-windowed conference rooms that can be combined, with seating for up to 120 people.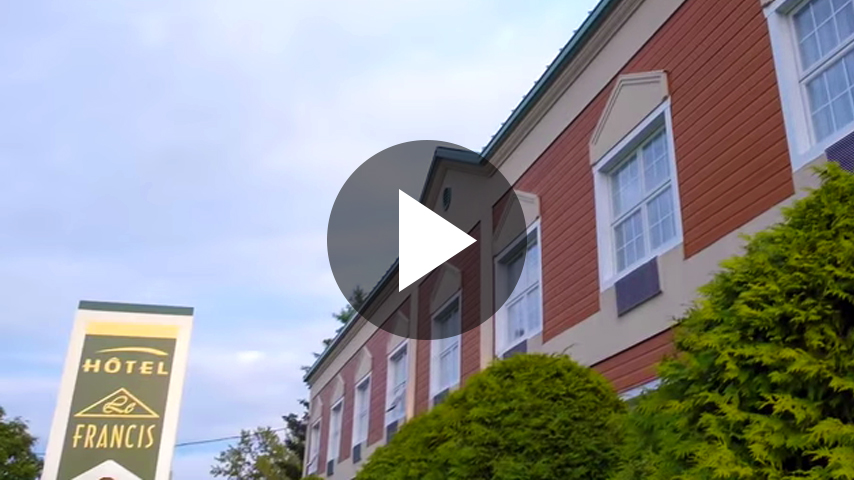 Watch the Hôtel Le Francis video clip (45 seconds)
TEAM
Some thirty people make up the establishment's team, under the leadership of the following individuals.
DANIEL DUCHESNEAU, General Manager
JULIE COULOMBE, Assistant Manager
AURÉLIA CARON-RICO, Marketing Coordinator
ANNIE BABIN, Front Desk Team Manager
CHANTAL DESBIENS, Head Chef
CLOÉ HANDFIELD, Food Services Team Manager
CAROLE CORMIER, Housekeeping Team Manager
RÉJEANNE POIRIER, Bookkeeping Clerk
The team can be reached by e-mail at contact@hotelfrancis.qc.ca.
MISSION
Offer our clients superior-quality accommodation, dining and business-meeting experiences by providing attentive service, superior comfort, inviting décor and a delicious menu with a local flavour.
VISION
Maintain 4-star quality standards by banking on the ongoing improvement of our facilities, gourmet experience and service, thanks to a professional, united and mobilised team, and remain an establishment recognised for its eco-responsible practices.
VALUES
Outstanding customer service
Respect for individuals
Transparency and accountability
Team spirit and job satisfaction
Openness, innovation and ability to adapt
Ecoresponsibility
HONOURS
The efforts made by Hôtel Le Francis over the years to perfect its facilities and services have earned the establishment and its management numerous awards. [+]
BACKGROUND
Francis and Alexandrine Cyr bought the lot located along the Petite Cascapédia River from Hernest Guité and Aline Cyr to establish Hôtel-Motel Francis in 1965. The triangular central portion, a distinctive feature of the establishment, was built at that time, with 22 motel units with balconies and views overlooking the river. The establishment was owned in later years by several different owners, one after the other, until the enterprise declared bankruptcy in 1989; at the time, it was essentially known for its disco-bar component. In that same year, the property was acquired by Lucille Roy-Duchesneau, who was determined to make it a reputed establishment. The daughter of a family of hotel owners, she had a very specific vision: Upgrade the establishment to make it a friendly, superior quality hotel. [Read on, in French only]
COMMUNITY INVOLVEMENT
Hôtel Le Francis and Bayou Restaurant and Pub are pleased to be involved in the community by supporting certain cultural and sports events, and by sponsoring sports teams and social clubs.
About